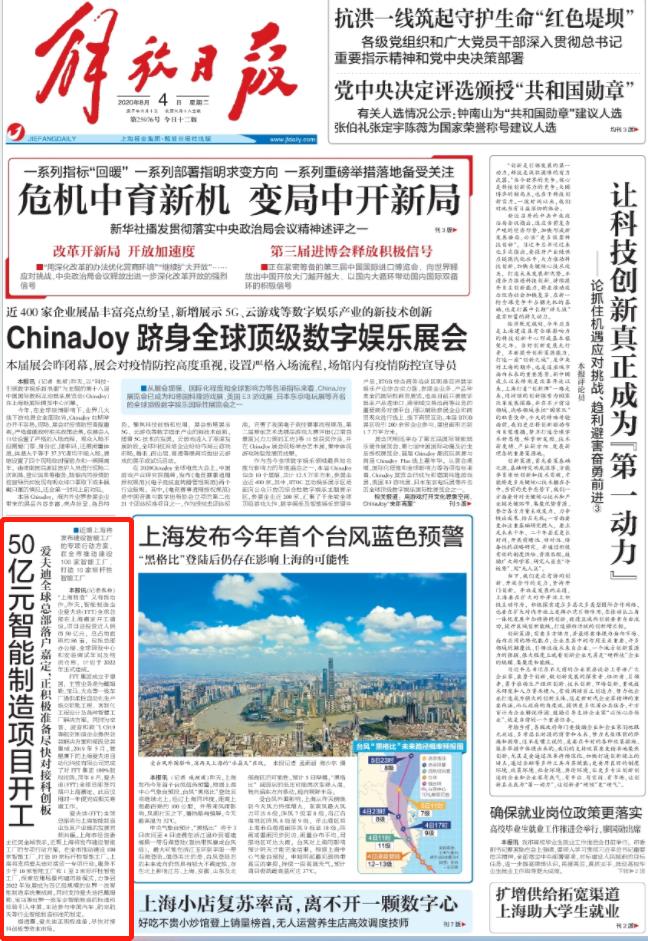 5-billion-yuan smart manufacturing project started
FFT's global headquarters is located in Jiading, and is actively preparing to connect with the SSE STAR Market as soon as possible
August 04, 2020 01: Key News Source From: Jiefang Daily




Shortly, Shanghai will release a special action plan for constructing smart factories, promoting 100 intelligent factories in the city, and building ten benchmark smart factories.


News from our newspaper (Reporter Yang Zhang) "Made in Shanghai" has another new move. Yesterday, the global headquarters of the intelligent manufacturing company FFT started construction in Jiading, Shanghai. The project has a total investment of nearly RMB 5 billion and a total area of about 86 acres, including the headquarters office building, global R&D center, installation and commissioning workshop, and logistics warehouse. It is planned to be officially completed in 2022.

FFT Group was established in Germany. Its main business is to provide flexible automated production line turnkey projects, customized engineering design, and various smart factory solutions for Daimler, BMW, Volkswagen, and other first-tier car factories. It also provides Airbus, Boeing, and China Aerospace manufacturing companies such as COMAC C919 to provide final assembly solutions and segment final assembly integration. In May 2019, Shanghai FFT Automation Technology Co., Ltd., a subsidiary of Fosun, completed the 100% acquisition of FFT Group. In August of the same year, the FFT Global Headquarters signed a contract and settled in Jiading, Shanghai. After that, it only took one year to complete the relevant preparations.

FFT's global headquarters will resonate at the same frequency with the development of Shanghai's smart manufacturing industry and its industrial chain. Mr. Jincheng Wu, director of the Shanghai Municipal Commission of Economy and Information Technology, said that soon, Shanghai would release a special action plan for the construction of smart factories, promoting the construction of 100 smart factories in the city, and building ten benchmark intelligent factories. Shanghai will support this special action of FFT. The company serves no less than ten smart factories and 1 to 2 benchmark smart factories, explores new models of application scenarios construction, and strives to develop into a world-class intelligence with a scale of tens of billions by 2022 Manufacturing system integrator. At the same time, it supports FFT to introduce the standards and experience of world-class car companies such as Daimler and BMW into China and actively participate in the formulation of intelligent manufacturing standards for China's automotive, aerospace, and other industries.

According to reports, Aifudi is actively preparing to connect with capital markets such as the Science and Technology Innovation Board as soon as possible.