8月On August 3rd, the global headquarters of FFT Automation, a global leader in intelligent manufacturing, officially started construction in Jiading, Shanghai. The project's total investment is nearly RMB 5 billion, scheduled to be formally completed in 2022. As the controlling shareholder of Aifudi, Fosun stated that it would build FFT into a world-class intelligent manufacturing group by constructing its global headquarters project. Besides, to deeply integrate into Fosun's FC2M ecosystem with its upstream flexible manufacturing supply chain advantages, and vigorously promote Shanghai's intelligent manufacturing and related industries. The overall development of the industrial chain.
Jincheng Wu, Director of Shanghai Economic and Information Technology Commission, Jianming Zhang, Deputy Director, Fangzhou Lu, Secretary of Shanghai Jiading District Committee, Xiang Gao, Deputy Secretary of Jiading District Committee and Acting District Mayor, Hualu Shen, Member of the Standing Committee of Jiading District Committee and Deputy District Mayor, and Star International co-chairman Qunbin Wang, Fosun global partner and FFT chairman Liangsen Zhang attended the groundbreaking ceremony and laid the foundation for the FFT global headquarters project together. The German management of FFT also witnessed it through a video connection.
Foundation laying of FFT global headquarters
At the groundbreaking ceremony, Jincheng Wu, director of the Shanghai Municipal Commission of Economy and Information Technology, said: Shanghai supports the FFT to connect with 100+ smart factories action plan and serve no less than ten smart factories and 1-2 benchmark intelligent factories. The standards and experience of smart manufacturing from world-class car companies such as BMW and BMW are introduced to China. Work together with Fosun and FFT to create new advantages of intelligent management services, new models of industrial applications, and the new channels of domestic and international double-circular links to provide strong support for the stable growth high-quality development of Shanghai's industrial economy.
Fangzhou Lu, Secretary of the Jiading District Committee of Shanghai, said: Jiading will make more significant efforts to accelerate the high-quality development of intelligent manufacturing, pay more attention to promoting the cross-border integration of super-strong industries, characteristic industries and new technologies and new industries, and focus on building "intelligent, electric vehicles." Three hundred-billion-level industrial clusters, including integration, sharing, and networking", smart sensors and the Internet of Things, high-performance medical equipment, and precision medicine. As the local party committee and government, it is assumed that it will continue to optimize the business environment, support and serve Fosun, and develop FFT in Jiading.
Qunbin Wang, Co-Chairman of Fosun International, said: Fosun will give full play to its advantages in global industrial resources and actively respond to Shanghai's action plan to build 100+ smart factories. It plans to spend two years focusing on Fosun's industrial automation sector with the FFT global headquarters as the core. Continue to invest and integrate upstream and downstream related industrial resources and promote FFT's overall connection with the capital market. Simultaneously, FFT will be deeply integrated into Fosun's FC2M strategy as an upstream flexible manufacturing supply chain to promote the FC2M strategy's continuous implementation.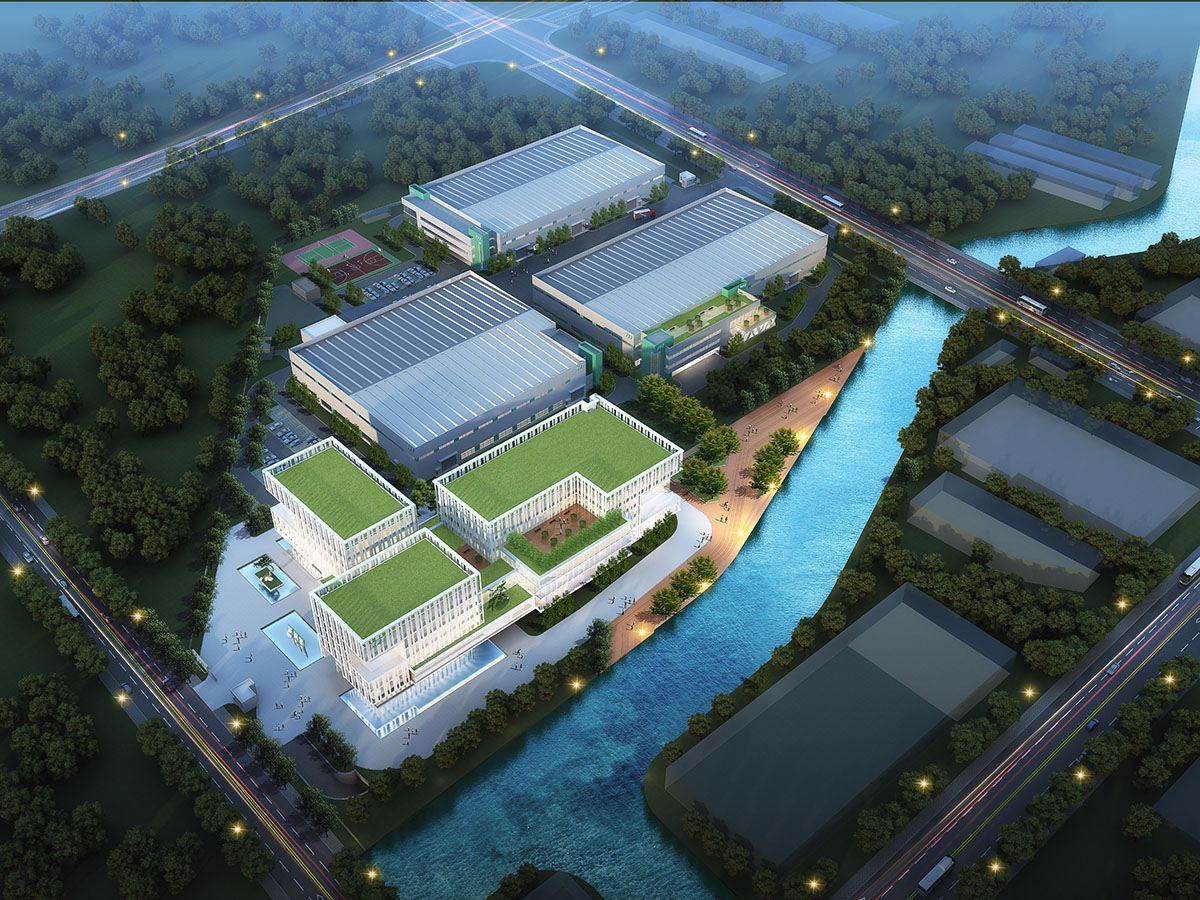 The picture shows the schematic diagram of FFT Automation's global headquarters
In July 2018, Fosun established Shanghai FFT Automation Technology Co., Ltd. (FFT Automation). In May last year, the acquisition of 100% equity of FFT Group was completed through FFT Automation, aiming to create a closed-loop ecosystem of intelligent equipment "display training, R&D technology, manufacturing, system integration, solution support, and comprehensive services." Since FFT's global headquarters was signed and settled in Jiading in August of the same year, it only took one year to complete the relevant preparatory work.
It is understood that the FFT global headquarters is located at No. 400 Yuanda Road, Anting Town, Jiading District, Shanghai. It covers about 86 acres, including the headquarters office building, global R&D center, installation and commissioning workshop, and logistics warehouse. The construction is divided into 3 phases. It is planned to be completed in 2022.
After the completion of the global headquarters, FFT will rely on its long-term accumulation of knowledge and skills such as automation, digitization, and industry 4.0 intelligent industrial production core technologies, as well as the world's leading digital twin technology and other core businesses to continue to expand its industry coverage, while continuously increasing R&D investment. The efficiency of technological transformation will expand the depth and breadth of the industrial chain. The global R&D center will carry out applied R&D in laser vision technology, automated transportation technology, flexible automation integration technology, and smart factory solutions.
As an innovation-driven family consumer industry group, Fosun is based in Shanghai, rooted in China, and facing the world. It actively implements the "China-Global Two-Way Drive" strategy and vigorously promotes the establishment of high-end smart manufacturing in China. Taking the FFT global headquarters project as an opportunity, Fosun will continue to strengthen the upstream and downstream related industry chains and build an internationally leading intelligent highland in Jiading, Shanghai. Which will vigorously promote the development of Shanghai's smart manufacturing and comprehensively improve the city's energy level and core competitiveness. In this way, to appreciate Shanghai's continued support and nurturing to Fosun and contribute to the launch of the "Made in Shanghai" brand.
About Fosun:
Fosun was founded in 1992. Fosun's mission is to provide high-quality products and services for families worldwide in health, happiness, and wealth businesses. Fosun International Limited is an innovation-driven consumer group that has been listed on the main board of the Hong Kong Stock Exchange (00656.HK) since 2007, with total assets of RMB715.7 billion (c.US$102.6 billion) as of December 31st, 2019 and total revenue of RMB143.0 billion (c.US$20.7 billion) in 2019. Fosun International ranks No.371 on the 2020 Forbes Global 2000 List.
About FFT:
FFT Group was established in 1974 and is the world's leading provider of flexible automated production line solutions. The company's main business is to provide turnkey projects for flexible automated production lines, customized engineering design, and various smart factory solutions for first-tier car manufacturers such as Daimler, BMW, and Volkswagen. The manufacturing company provided final assembly solutions and segment final assembly integration.
After nearly 50 years of development, FFT has a precise technical route and an intellectual property structure. The company has mastered industrial production's core technology in automation, digitization, and industry 4.0 intelligence and is a global leader in core business areas such as digital twin technology.
Through continuous joint research and development with customers, FFT has formed intelligent manufacturing-related technologies that lead the industry's growth and formulated global standards while using its accumulation to expand horizontally into new sectors such as power batteries and automotive electronics. FFT also extends the existing laser, vision, lightweight fixtures, and other proprietary technologies and standard product sequences. The company also builds superior intelligent equipment through endogenous R&D and extensional mergers & acquisitions. It is thereby accelerating industrial digitalization and industrial software business development, providing customers with full Digital engineering solutions covered by dimensions.